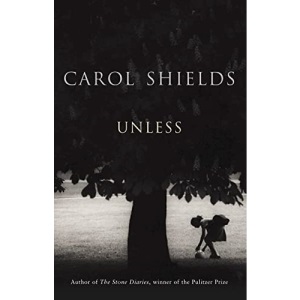 The 19 year old daughter of a perfectly adjusted Canadian family leaves her life behind to stand on a street-corner holding a sign that says simply: Goodness. What reasons could have led her to this behaviour? How does this baffling event affect her family and the community around them?
We enter their lives through the narration of Reta Winters, the mother, a professional writer working on a light-reading novel.  She examines every area of her personal and family life with a hint of wonder at how everything goes on, despite the loss she feels in every minute of her day. She is both comforted and astounded by this continuity. She examines society trying to understand her daughter's behaviour, she tries to find ways of easing her suffering. She is brutally honest in her self-analysis and yet she is also selfless in her role as carer for her family.
Carol Shields's characters are some of the most realistic and well-constructed you will find and you simply cannot believe that Reta Winters doesn't actually exist in a suburb of Toronto or buys silk scarves for her daughters in Chicago.
This is a not a fast-paced book, it is quiet and introspective and incredibly rewarding. It will also be interesting for any amateur or professional writers to read Reta's considerations around literature throughout the book, as you can really witness a writer's brain at work.
And, in the background, one question still troubles the author: are women at the turn of the 21st century still condemned to "goodness [but] not greatness"?
Our thanks to Joana Baldaia for her review.