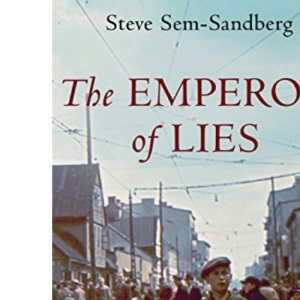 On first glance, you'd probably think this book couldn't possibly be something of interest to you due to its risqué subject matter and unusual viewpoint. But, I have to tell you, it's worth a shot.
Set in a Jewish Ghetto during WWII, the novel centres on the Chairman, operator of the ghetto, who believes that without him, the ghetto wouldn't be what it was, a manufacturing hub. The novel takes an interesting turn as it focuses on several different characters throughout, which can leave you trying to keep up and remember who is who. Nevertheless Sem-Sandberg shows the different lives of the Jewish people and the circumstances that they lived in. The characters range from men on the Jewish black market to a woman working in a children's home. It is worth bearing in mind, that this is loosely based on real accounts and at no point is it blatant to the Jewish people what their fate will eventually be.
It's quite heavy going in places and towards the middle there is a lull which I think could have been scrapped by the editing folk, but do persist, the characters are interesting and a few somewhat mischievous.
However, do be prepared for the parts of the Chairman's life that are quite unorthodox and that will make your skin crawl.
Sem-Sandberg leaves you to make up your own mind whether the Chairman was acting in the people's best interest or not, and as to whether he was a good man beneath the facade. On the whole, a twist on the usual Jewish perspective in fiction that is most definitely worth a read for those interesting in the world's history.
Our thanks to Sam for her great review.