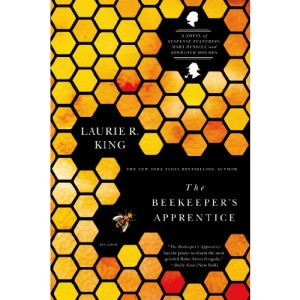 There are two things in the world of literature which give me immense
pleasure. The first is the works of Sir Pelham Grenville Wodehouse (PG,
Plum, The Master) and the second is the world, as inhabited by Sherlock Holmes.
The former is a delight of well-turned phrase, characterisation,
absurdity etc. etc. whilst the latter is slightly darker but still
convivial and comfortable, and ruled by a man of logic.
My issue with each is the paucity, to the tenacious reader, of material
- fortunately, PG's output deserves continuous rereading if only to
remind oneself of the beauty of his writing. His tales are less about the plot, to my mind, than the delightful journey to happy endings.
Unfortunately Sir Arthur Conan Doyle provided 60 tales, each so well
constructed, that the stories and plots are memorable, and thus not as
easy or desirable to revisit.
Fortunately there are writers who continue, for love (and) or money, to
produce tales of Holmes, Watson, Lestrade et al, some succeeding, some missing the mark, but all worthy of a visit for the lover of the
immortal detective.
One such writer, Laurie R King, has continued to write of Holmes, yet with a twist that some may find unacceptable – Holmes is older and has "retired" to the Sussex Downs to raise bees, as he had always threatened to do.
However, he is still active, continues to live with the service of Mrs
Hudson, remains in contact with Watson and Mycroft, and retains a mind as sharp as ever. A comfortable life, one assumes, until Ms King's
character stumbles into his retirement.
The beauty of the book, to lure the suspicious Holmes fan "in", is its
gentle approach to beloved characters, and very cleverly (I feel), the
way in which progressively lengthier short stories combine to produce
the whole. In this way, we are compelled to continue, as each story delights, just as the complete book develops.
But to the plot, or more accurately, plots – we open with a  fifteen-year old girl (Mary Russell) encountering Holmes on the Sussex Downs. There appears to be an initial antipathy between them, but Holmes shrewdly recognises her possession of a mind not unlike his own, and invites her to take tea with him.
Holmes and Mrs Hudson take the orphaned Mary (a tale within a tale here) under their combined wings, and she receives a focused training in the art of detection from Holmes.
Her life within the village, including  tending to wounded soldiers sent home from the front, rounds her overall growth, before she is able to attend an Oxford University in 1917.
Returning to Sussex for the holidays, "the game is afoot" as Mary takes part in her first case with Holmes.
Not wishing to give away the plot or spoil your own enjoyment of reading this excellent book, I'll keep it brief – suffice to say, there are 4 tales ranging from suspected spying, to theft, to kidnap, to murder.
They include dogs and disguises, beatings and bombs and travel and torment. The dénouement arrives, as their adversary lays in wait for them and reveals motives for revenge that lay in Holmes's past.
Our thanks go to Terry for his great review.