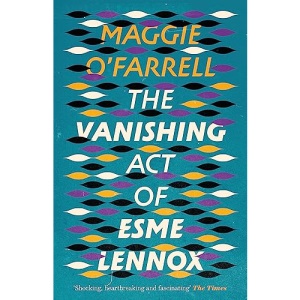 A review of The Vanishing Act of Esme Lennox by Maggie O'Farrell
I love Maggie O'Farrell's style; her narrative is very descriptive and paints a colourful and vivid picture of the places through the eyes of her characters. The time line jumps around giving you titbits of the story like a jigsaw that you gradually piece together. Each character is given their own distinct voice from the child with her limited attention span flitting from one attractive detail to another to the elderly lady with Alzheimer's whose flow of thoughts are disjointed and confused mixed with ancient memories. These are contrasted with the modern girl whose style is straight-forward and practical.
The story is compelling, if a little far-fetched; about Esme, a little girl living in India with her ex-pat family. Later the story jumps to her as an elderly lady being released from mental institution where she has lived for over 60 years. Completely unknown to either of them is her relative, Iris, a twenty or thirty something single girl in Edinburgh who is about to discover a slice of her own history.
Esme's sister Kitty also plays an important role. She has Alzheimer's and a dysfunctional relationship with her granddaughter, Iris. She speaks in a flow of consciousness that is a patchwork of details and snippets of her past life. Seemingly irrelevant these snippets come together to form a complicated jigsaw depicting a sad, confused and colourful story. Her story gives an insight to the suppressed lives of middle class girls in pre-war Scotland – their lack of sexual understanding, the constraints of polite society, the considered futility of education for girls and the lack of communication between children and parents etc…
Iris is at pole contrast to their suppression, living as a single girl with liberated and yet still dysfunctional relationships – liberation is not necessarily the route to happiness – maybe honesty is? She has no societal constraints – her life is independent and creative, her relationships are open and yet stilted and complicated. Her life has been worldly and yet she chooses to return to her roots and her family home.
The mysterious and ethereal style of the book keeps you gripped right to the end when its secrets are revealed. The perfect read for a dreamy summer holiday…
Our thanks go to Kate Pemberton for her review of The Vanishing Act of Esme Lennox